Mitsubishi hopes to appeal to enthusiast buyers with the S-AWC (Super All Wheel Control) and Twin Clutch SST automated transmission found in the new Evolution X which was released in Japan on October 1st 2008 in the Concept-RA.
Mitsubishi's last attempt at doing an All Wheel Drive environment friendly sports coupe was inclusive in the concept of what became the 4th Generation (2006+) Eclipse. As it resulted, the 4G carried over many of the same traits found in the 3G and left us with no all wheel drive or turbo options.
My guess if this particular project doesn't fit in right with the concept, I'm willing to bet that these are images of what we can expect the 5th Generation Eclipse to be like. Better yet, if they keep the All Wheel Drive, things will definitely be looking up for the Eclipse market once again.
Here are highlights of specs that Mitsubishi has released:
Engine: 
2.2L 4 cyl DOHC Turbo Diesel MIVEC engine capable of 202hp and 309ft/lbs of torque
Drivetrain:
Super All Wheel Control (S-AWC)
Active Steering
Active Damping Control to Active Center Differential
Active Yaw Control
Sport Antilock Brake System
Active Stability Control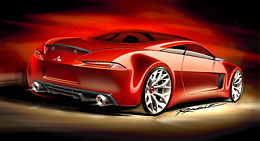 Undoubtedly, this is something most of us have been looking forward to for years and we are eager to continue to watch any future developments of this vehicle.
Source: Mitsubishi Press Release