How much power can a V6 SOHC 6G72 mechanically handle is a question that we receive quite a bit. If you own a 3.0L SOHC V6 based vehicle such as the Eclipse, Galant, Stratus or are looking to swap a 3.0L into your vehicle then coming to Tearstone Performance to help scoot your beast a long down the road or track quicker is the right step!
The 6G72 SOHC 3.0L engine is a very reliable engine in naturally aspirated form. Assuming the engine was not neglected on the proper maintenance intervals, you should not be surprised that the 6G72 SOHC will exceed 250K miles. I have a lot of customers that are concerned that once they hit 60k-70k that they've hit a "high-mileage" threshold and are wondering if a rebuild is in order. As far as I'm concerned 60-70k on these engines is barely breaking it in. I've taken 120k+ mile engines apart and the bearings nearly look brand new still.
The 5speed 6G72 puts down around 180whp (wheel horse power) on a dyno in naturally aspirated form give or take 5whp depending on emissions setup and higher engine compression/plenum design found in the 2003-2005 GTS models.  The Sporttronic or automatic vehicle puts down around 160whp in stock form, give or take based on aforementioned stock configurations.
Basic bolt ons with no ECU flash will bring you up approximately another 10-12whp. The ECU Flash alone even on stock cars has been estimated to add another 15whp. Even then the stock engine will be quite comfortable with that level of horsepower assuming it's tuned on to a proper A/F ratio. I say that because even on a perfectly stock car if you tune the car improperly you can cause damage to the engine anyways.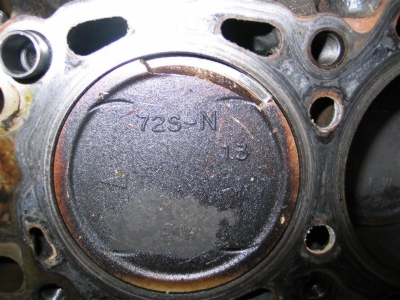 Where we start to push the limits of the stock engine is with forced induction. One constant we've found, even with the 6G74 engines is that the pistons are designed for economy and use a very soft aluminum alloy. With the right amount of heat, this will inevitably begin to pull off chips of the ring land at about 300whp. Turbo sizing plays an important roll in how much heat is processed efficiently through th engine so potentially you are risking tearing up your pistons at a lower boost level / horsepower. Generally we've found that a T3/T04e 50 trim is good for about 6psi, and T4 is good for 8psi to keep the engine somewhat reliable.
Nitrous has found to be safer in this realm as long as you are using a wet intake kit. Many owners have used 75 shot kits and have gone through quite a few bottles with no dismay. Then of course I have one engine that is heavily damaged from a direct 75 direct port setup.
If you have intentions of adding a turbo, supercharger or extensive nitrous use on your engine, you definitely want to upgrade to forged pistons at a minimum. The rest of the engine in terms of reliability is built really well except the pistons have always been a problem in terms of adding lots of power to the engine.
At this point, not many vehicles have made it past the 300whp mark. The few that have made it to the 400whp neighborhood still managed to have a reliable setup but has issues with the heads not flowing anymore air efficiently. We guesstimate the stock rods are good for at least 500whp based on the success of the 3000GT platforms. We've never heard of anyone having a bent rod unless they sucked up water or hydro-locked their engine. For the few people that have gotten to the 400whp mark, they did it with stock cams so we can only conclude that the heads stop flowing air around that mark.
In terms of ignition limits, many owners that begin pushing 10-12psi begin having issues with the spark blowing out using the stock distributor. It's best at this time to supplement your existing distributor or convert to coil packs. I would recommend anyone do that in excess of 300whp.
This should give you a road map or some sense of what you are getting into in terms of making power with these engines and vehicles.